Mental Health Consultations and Counseling [EAP Services]
Important Notice
To Avanade Insured
The EAP services provided by us(Accenture Health Insurance Society)
ended on December 31, 2020.
In the future, please use the EAP services provided by Avanade Co., Ltd.
Please check here for details of the services.
What is EAP?
EAP is the abbreviation for "Employee Assistance Program". EAP is an assistance program to improve the company's energy through the maintenance and promotion of employees' mental health and many companies, organizations andhealth insurance societies have been introducing it recently.
What is the "Mental Health Consulting Service" from TMS Navi?
"TMS Navi" (=TMS NAVIGATOR) is the mental health care service (EAP: Employee Assistance Program) provided by Tokio Marine & Nichido Medical Service Co., Ltd.
TMS Navi will support the maintenance of employees' mental and physical health through two services, the "Stress Check" and the "Counseling Service".

Features of the service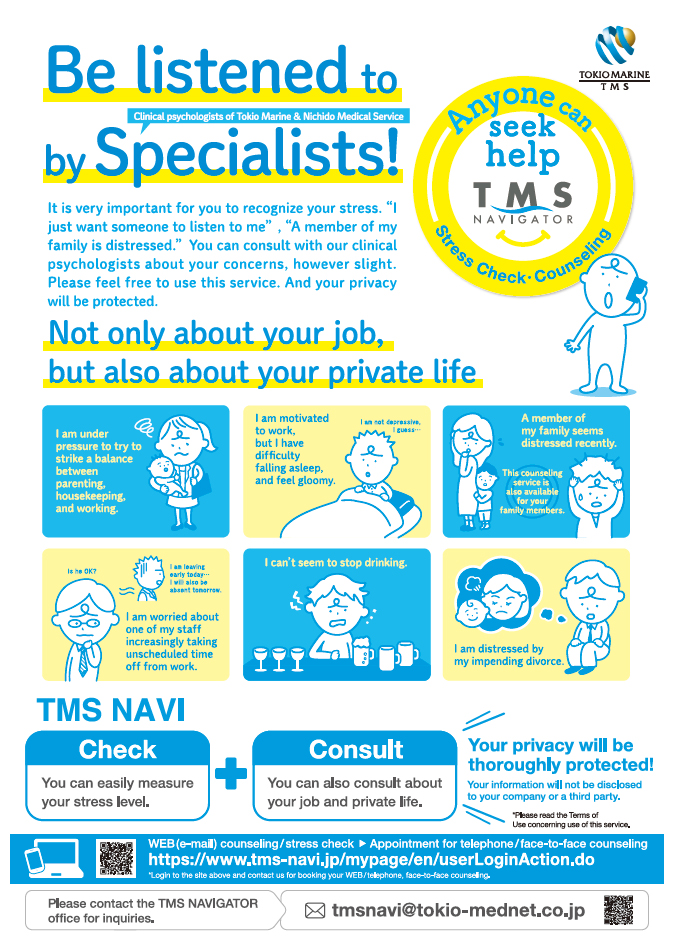 *Please check the Terms of Use, Users Guide(in Japanese), etc. for the details of the service.